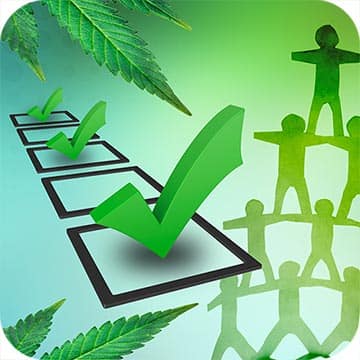 Cannabis industry firms rise and fall based on the strength of their teams and every month the competition for the most experienced and desirable talent becomes more intense. New entrants are increasingly luring away key individuals from more established firms with better pay, benefits, or the promise of a better company culture. Employees are increasingly keeping their options open and savvy employers are starting to appreciate the importance of taking their human resources seriously.
As the cannabis industry's oldest professional recruiting firm, one of the biggest mistakes we see industry employers make is having a sloppy or haphazard hiring process. We hear the horror stories from our top candidates with disturbing regularity. People who were previously attracted to a particular company on the strength of their products or brand are turning down otherwise desirable opportunities because the employer's interviewing and hiring process is a mess. This can, and frequently does, lead to a poor first impression that these firms rarely overcome. Candidates understandably assume that if your interviewing and hiring process is unorganized and frustrating, the same will be true of working for you. And make no mistake, these candidates talk. The best cannabis and hemp industry employers understand that the interviewing process is an important audition for both parties.
Recognizing this challenge, our CEO, as the inaugural Chair of the National Cannabis Industry Association's Human Resources (HR) Committee*, is working closely with her fellow committee members to create a series of FREE resources to make addressing common challenges, like this, easier for our clients and fellow association members. The first of these is an industry-specific Hiring Process Checklist, linked near the end of this post.
When cannabis industry firms fail to identify and attract the most desirable talent they are forced to make due with the teams they do manage to attract and frequently have to pay the high price of continually cycling employees in and out. According to The Society of Human Resources Management (SHRM), the cost of replacing an employee averages around $4,100. Worse still, the stress and frustration that an under-performing team member can place on your other employees, during their time with you as well as the time it takes to ramp up their eventual replacement, increases the likelihood that your star players will be tempted to apply elsewhere, compounding the problem. A solid hiring process helps assure you hire the right person the first time and that these people accept your job offer as opposed to someone else's.
Last but not least, failing to have a well-structured hiring process can place your firm at increased risk of an employment lawsuit or even jeopardize your license. From your job postings to the kind of questions your interviewers ask, a casual approach could easily result in an unlawful discrimination claim or a steep fine by a state or federal regulator. We see this far too often. And while such lawsuits and fines are becoming increasingly common, it's a wonder they aren't even more frequent. If your firm doesn't currently employ a certified human resources professional who can make sure your job postings and interview questions comply with the laws of your state and municipality, we highly recommend you have them reviewed by an external human resources consultancy, like Viridian Staffing, or a qualified employment attorney.
We encourage you to use the NCIA's Hiring Process Checklist as a starting point for the development of your own hiring process. Doing so can help you avoid some of the most common mistakes being made by cannabis industry employers today.
Once you've developed a well-structured hiring process that makes sense for your firm, make sure that the people responsible for implementing it understand and follow it closely. Once implemented, it is also highly recommended that you periodically review your hiring process and refine it as your company grows. What made sense for you as a startup might not work as well as you scale.
*Viridian Staffing has been a member of the National Cannabis Industry Association (NCIA) since early 2014 and was the association's very first staffing, recruiting or HR-related member business.