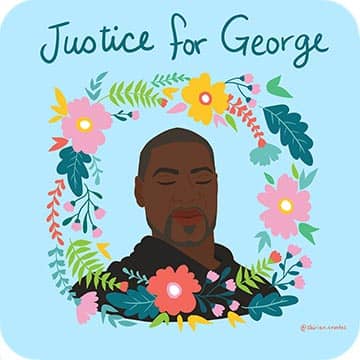 Like many of you we were deeply disturbed by the careless murder of George Floyd. At the same time, we have also been moved and encouraged by the groundswell of popular support to FINALLY get to the roots of what ails our deeply dysfunctional, and so often corrupt, criminal justice system and how we approach policing in America.
Those who have known us over the years understand that our desire to see meaningful criminal justice reform (in light of the "War on Drugs") and the creation of real opportunities within the communities most negatively affected by it, were a huge part of what motivated us to get involved in the industry and movement as early as we did (before the Obama administration signaled they'd take a hands-off approach to Washington & Colorado). At that point, the prospect of meaningful political and social change was far more pronounced than any business opportunity, which gave us the motivation to persevere. Even if the business failed, we could still comfort ourselves with the idea that we contributed to fewer lives being destroyed by the intentionally racist War on Drugs (See the admission of Nixon aid John Ehrlichman if you aren't already familiar).
At the same time, we wanted to take a moment to let the events of the past week sink in and think about how we might help bring about meaningful change along these lines before rushing to our social media feeds to engage in what might otherwise amount to mere virtue signaling or trying to make this about us. In other words, we felt it was important that we put our money where our mouth is and renew our commitment to walk the walk, before making any public pronouncements as a company.
Having taken that time we have decided to do the following and strongly encourage the broader cannabis movement and industry to consider doing the same.
(1) We have joined (as individuals) and donated (as a company) to Campaign Zero. We have done so because we believe that Campaign Zero represents the best hope for the meaningful reform of police departments across the country and believe their approach is as comprehensive as it is realistic. Not only do we strongly support their 10-point program, we believe in the efficacy of their strategy which scales up from the local to the national level.
(2) Like many of you we have also heard the call from some within the movement to "Defund the Police." While this slogan has understandably raised eyebrows among proponents and opponents of the BLM movement alike and clearly isn't a very well-conceived slogan, it seems to mean different things to different people. At its most extreme it means exactly what it sounds like, the complete abolition of policing as we know it. That version doesn't appear to enjoy much support among the very communities it would most impact, who tend to want better, community-based policing, as opposed to less. At the other end of the spectrum people are using the phrase to mean spending less on policing and more on community uplift; things like strengthening the social safety net, social work and forms of direct investment into these communities, be it supporting the growth of small businesses, improving schools, etc. As you know, most states, regardless of whether they legalized by ballot initiative or their state's legislature, have earmarked a certain percentage of cannabis taxes for police departments, to assuage the fear among some segments of the electorate that cannabis legalization might end up resulting in increased crime that needs to be offset. Seeing as this fear was clearly unfounded, we plan to support any effort, in any state to amend their cannabis laws to reduce or eliminate the taxes that are currently earmarked for increased policing, and if those taxes are to be maintained, earmarking them instead for supporting minority-owned cannabis businesses, be it through easier access to startup capital, tax incentives, etc.
(3) We intend to continue to leverage our prominence in the cannabis industry to uplift communities of color and help right the wrongs of the War on Drugs. We have, and will continue to highlight, support and participate in the efforts of organizations like the MCBA (Minority Cannabis Business Association), Supernova Women, DACO (Diasporic Alliance for Cannabis Opportunities), etc. and encourage you to as well. We will continue to welcome the opportunity to support the work of organizations with a similar focus and mission. While the cannabis movement and industry has achieved much over the last decade, the percentage of minority-owned cannabis industry firms and the composition of the cannabis workforce has remained depressingly low. While there are many reasons for this we believe it is incumbent upon our industry to get beyond lip service on this issue. We, as many of you, believe the communities most negatively impacted by the inherently racist War on Drugs ought to be over-represented in today's cannabis industry ownership and workforce and yet we are seeing the exact opposite. We need to do better. Much better.

We hope you agree and will join us in these efforts.